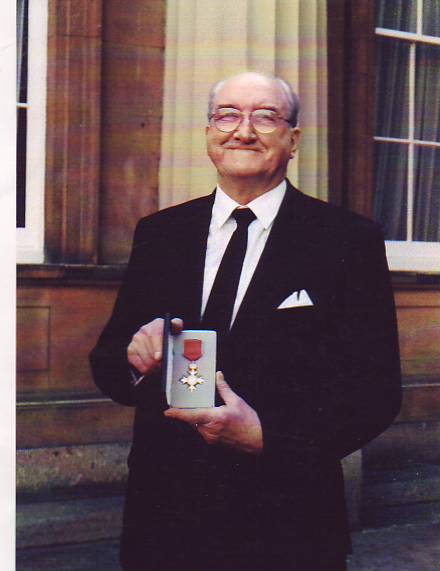 In Memoriam — Desmond C. Henley, OBE
Desmond C. Henley, O.B.E., F.B.I.E. Internationally recognised Master Embalmer, Des embalmed many members of Royal families both in the United Kingdom and overseas as well as members of the aristocracy, military and diplomatic service during his 53 years with J.H. Kenyon; services for which he was awarded the Order of the British Empire (OBE) having previously been made a Fellow of the British Institute of Embalmers (FBIE). On retiring from J.H. Kenyon Des was instrumental in assisting in the formation of Christopher Henley Limited. Des's expertise and knowledge in Embalming coupled with international recognition for his embalming techniques, formula's, disaster management and work on major incidents, personal friendships with overseas funeral directors and forensic institutions made him unique both in the world and in history.
1941 - Joined the staff of J. H. Kenyon, 45 Edgware Road, Paddington, London, W2
1948 - Passed Theoretical and Practical embalming examinations.
1952 - Entrusted with the embalmment of His late Majesty King George V1 at Sandringham House, Norfolk.
1952 - Appointed chief embalmer of J. H. Kenyon Ltd.
Entrusted with the embalmment of Her late Majesty Queen Mary at Marlborough House, London.
1956 - Deployed to Nigeria to repatriate 2 deceased people involved in the Kano Air Disaster.
1961 - Became an examiner of the British Institute of Embalmers.
1965 - Entrusted with the embalmment of the late Sir Winston Churchill at his London home.
1963 - 1976 - Worked extensively embalming throughout Bahrain, Qatar, Saudi Arabia, Abu Dhabi, Du Benin and Malawi.
1969 - Embalmed the remains of King "Freddie" Mutesa 3rd of Buganda.
1971 - President Idi Amin of Uganda requests that the body of King Freddie be returned to Uganda for a State Funeral . Desmond Henley requested to accompany remains to Uganda.
1972 - Elected Freeman of the City of London.
1973 - Flown to Athens in Onassis' private jet to embalm Alexander Onassis.
1987 - Elected Fellow of the British Institute of Embalmers.
1997 - Appointed O.B.E. by Her Majesty Queen Elizabeth. The citation reads : DESMOND CHARLES HENLEY. EMBALMER. "FOR SERVICES IN THE AFTERMATH OF DISASTERS INVOLVING THE LOSS OF HUMAN LIFE".
1992 - Retired from "Kenyon's" after 51 years of service which included being the Head of Kenyon Emergency Services mortuary team on numerous disasters.
2000 - Assisted in the formation of Christopher Henley Limited.
Des's career included the embalming of Lord Louis Mountbatten, Montgomery, Jimmy Hendrix, Judy Garland, Bon Scott, Billy Fury and a significant members of Royal families worldwide.
At Des's funeral, attended by 200 friends from around the world involved in the fields of Embalming, Forensic Science, the Police and Funeral Directing, Dr. Brian Parson's stated in his eulogy that Des was unique in history and would be a tremendous loss to the industry worldwide.
Desmond C. Henley and Her Majesty at Buckingham Palace